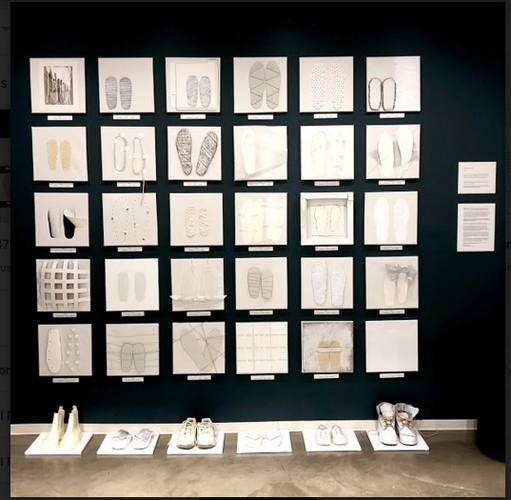 WHEN WILL IT END 2019
canvas, mesh, gauze, oil stick, chalk, corrugated cardboard, photographs, burlap, string, oil paint, wire, newsprint, clay, lifesavers, rice, vellum, aluminum foil, sugar cubes, twine, charcoal, tape, thumbtacks, rice paper, ink, safety pins

36 collages, each 12" x 12"; currently configured to be approximately 6' high x 7' wide on wall, plus 1' x 7' on floor
WHEN WILL IT END is the artist's visual response to gun violence and mass shootings. Every day, 100 Americans are killed with guns and hundreds more are shot and injured. In 2019, nearly 40,000 people died from guns in the U.S.
Following the terrorist attacks in Christchurch, New Zealand in March, 2019, pairs of white shoes were laid out in memory of the victims. The strength of that metaphor, with its historical ties to prior shootings and the ghostly remnants of the Holocaust, contributed to the visual motif of this wall collage. The number of the individual canvases loosely represents the deadliest mass shootings in modern U.S. history (1949 to present). The humble mediums suggest the commonplace and the familiar, as these atrocities have become.
Viewers are invited to place additional pairs of white shoes at the base of the installation as a statement to legislators and politicians.